Dear Reader,
We would like to report the immense success of our second annual yard sale. Not only did we make more room in our lives (and spending money!) for the treasures that await us at the 127, but we also got to see many great friends and good people. It was a whirlwind of a day. We took two rolls of film on a secondhand camera and then, toward the end of the sale, realised that we weren't even sure if the camera worked. While it seems more excited and risky to play
Russian
Roulette with your photographic memories, I decided to snap a few shots with a digital camera as evidence of the sale's
existence
.
This year the garage sale was more of a sidewalk sale, as we had no garage
Tara B picked up this lovely little latch hook picture that Elizabeth featured on the blog earlier this year. Get it, girl!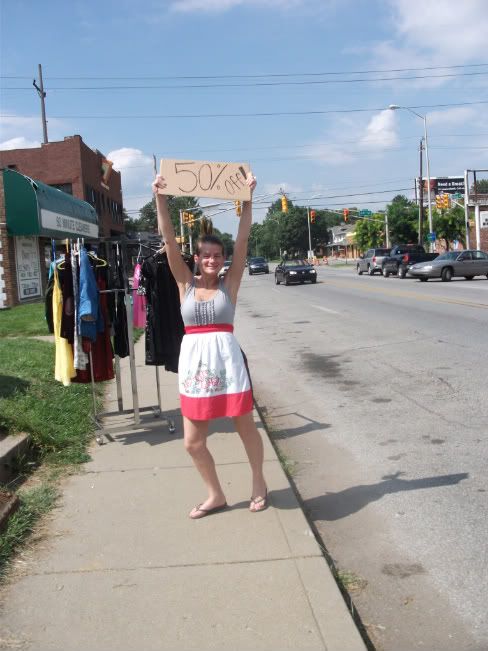 At the end of the sale we decided to try two brand new tactics- sign waving and 50% off. Erika proudly waved her sign, jumped up and down, and danced on the sidewalk.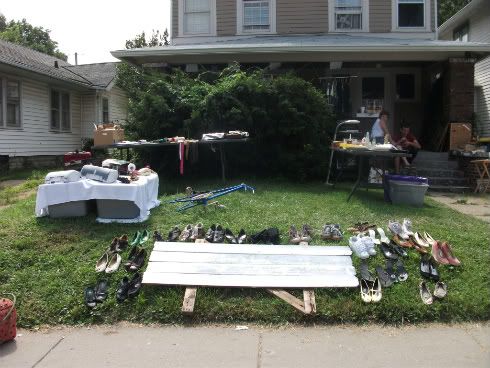 We had ALL OF THIS STUFF left!!! Our sign wavers did help to clear more of it away.