Different people have different thresholds of disgust when it comes to secondhand purchases. I draw the line at undergarments and bed linens.
In the last four or five years I have ventured into the land of secondhand shoe purchases. I didn't walk into this new territory intentionally, I feel as though the footwear has found me.
I really didn't think that I had that many previously loved shoes, but recently I decided to take a lil inventory, to see what I had. Much to my surprise, I found seven pairs. Yikes.
My grandmother gave me these Vans! She didn't like the way they fit. I was wearing them over Easter when I saw her and she was shocked to see I still had them. She thinks she may have bought them about fifteen years ago. I had no idea they were that old.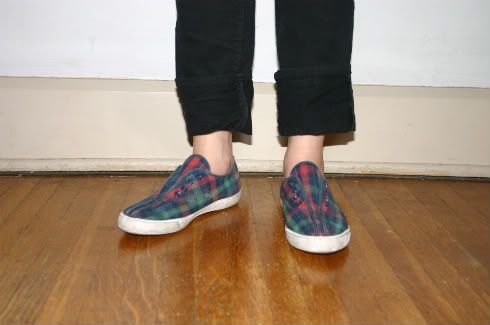 These K-Swiss kicks hail from Marion, Indiana. A little snug, but definitely worth it.
These lovely ladies are also from Marion. They are missing a strap, but I think it just adds to the charm.
I found these boots in Kentucky on the 127! 75 cents.
I bought these from the same gal in Kentucky. 75 cents.
These Keds Essentials are from Indianapolis. A ten year old girl complimented me on them once.
How do our lovely readers feel about secondhand shoe purchases? Yay or Nay?
Go on, I can take it!
With love,
Elizabeth