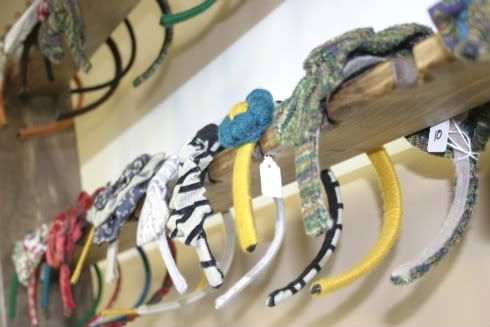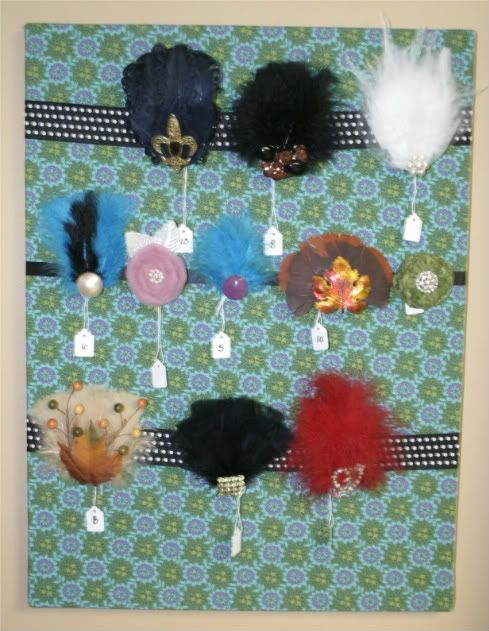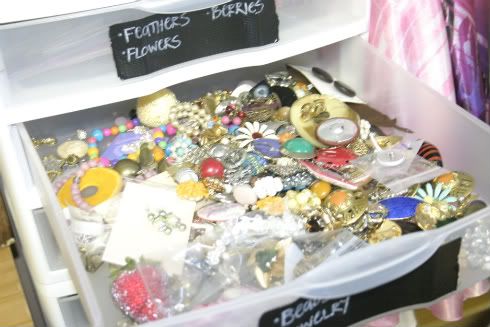 Above are a few snapshots of the Hair Treasures headquarters in Carmel, Indiana. Tara was kind enough to show us around her space and answer our many questions about the creative process, where she finds the unique secondhand jewelry in her pieces, and anything else our inquisitive (read: nosy) minds could conjure up.
Secondhand Happenings: How long have you been making and selling Hair Treasures?
Tara: Since September of 2009. I started making headbands for myself after I moved back to Indiana from Nashville. My first customer was my old babysitter!
SH: Where do you like to look for the vintage jewelry that you incorporate in to your pieces?
T: Flea markets!
Nashville
has the best flea markets. Here in Indianapolis
Stewart's flea market
is held every month at the state fairgrounds. There's a vendor there that always tries to get me to buy more from her by sneaking extra jewelry in to my pile. I've also bought bags of costume jewelry at
Broad Ripple Vintage
for $10 a bag.
SH: How much time do you spend making the treasures?
T: I try to work on something every day. If I'm getting ready for a craft show, then I'll spend hours a day!
SH: Do you have a favorite secondhand store of all time?
T: There's just so many...
SH: I know, that's tough question. It's kind of like asking "what's your favorite band?" (before I could even finish the
sentence
, Tara enthusiastically answered "Hanson!!!")
SH: What are some tools of the trade?
T: Hot glue! I used to use super glue, but there were too many mishaps. One night at 4 am I glued four of my fingers together. I didn't really know what to do! After
alot
of washing and scrubbing, I finally got them unstuck. Also, felt, yarn, a digital camera for
cataloguing
the pieces on
Etsy
and in my portfolio, and electric scissors my mom got me for Christmas.
SH: Besides your
Etsy
site, how do you get your pieces out of the studio and in to
someone's
hair?
T: Word of mouth, craft shows, friends, and special orders. I was recently invited to a bridal shower to create
cutomized

hair treasures for the bridal party
. I brought an assortment of jewelry and my portfolio book. It's a great way to get to know my customers and give them exactly what they want.
(we couldn't help but notice a sewing machine with an adorable dress draped over it, seemingly begging for an alteration)
SH: How long have you been sewing?
T:I got my first sewing
machine
from my grandma in first grade. I do
alot
of alterations. Most of the Hair Treasures are hand sewn.
SH: Do you have any advice for others who might like to start up their own
business
?
T: Don't be discouraged if things aren't going so well, especially in the beginning. If you love it, do it!